Kitchens - Redesigning Our Own Designs!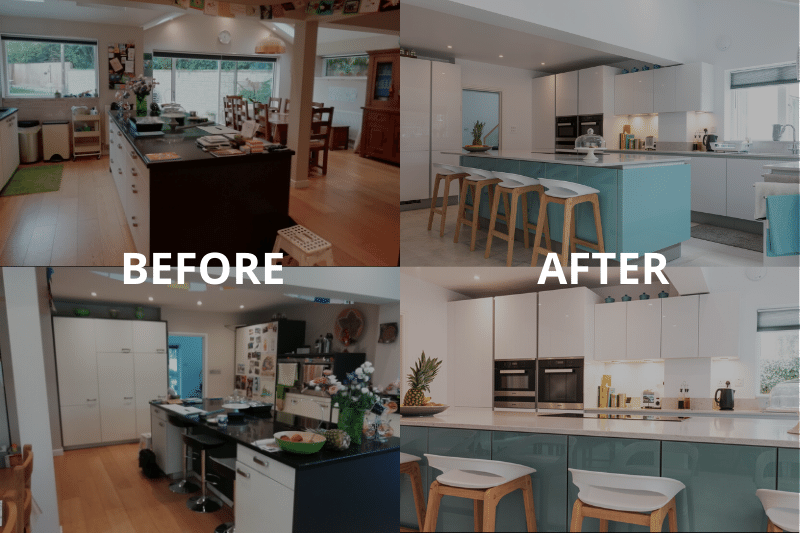 Our fitters are not in the habit of ripping out their own work – floors, furniture and fittings – but when our installer Gary Price undid his own work in Abingdon, there was a good reason.
Our clients, Mr and Mrs H were renovating their home and had reached the kitchen, when they approached us to work with them.
When designer Derek saw the existing kitchen, he wondered whether it had been put in by Oxford Kitchens, as it had some of our hallmarks: Leicht furniture, Miele appliances, a generous island and a practical layout. Then when Gary came to survey the project, he recognised his own work. Not only had we put in the original kitchen, but Gary had been the installer, too.
Design brief
Mr and Mrs H wanted the kitchen to flow from the welcoming entrance hall, using the same glossy grey tiles, so that set the background to the colour choices. They settled on a clean, neutral glossy white for the units around the wall, leaving the island to be in a feature colour, as it is a focal point for the entire room, which includes dining and leisure areas. A handleless design was a given, with steel coloured plinths accentuating the line.
Given the ages of their young children, Derek offered glass-faced units for the island, with their toughened surfaces. Mr and Mrs H chose a light teal colour from the (literally!) thousands we had available, as it worked well with the floor and worktops. They sourced pendant lights in the same colour, and friends found some matching decorative items.
The original layout still largely served their purposes, but they wanted more seating space on the island, a larger sink bowl, tweaks to the tall unit storage and a cleaner line. Derek also suggested a height break to the wall units, wrapping around the nib, and clearing the beam above. This has simplified the wall unit line and effectively created a shelf for decorative items. As the sink is by the windows, where there was little putting-down space, we added a shallow run of units on the next wall to give extra storage and a surface for small electrical items.
With extra final touches include levelling the window heights to enable stone sills to both, Mr and Mrs H are delighted with their new kitchen which now flows peacefully with the rest of their newly renovated home.